Chatsworth Swiss cottage was built between 1839 and 1842 as part of the 6th Duke of Devonshire's many improvements to the Chatsworth Estate. It was designed by Joseph Paxton or his associate John Robertson, as an 'eye-catcher' in the landscape, to be admired on carriage rides or walks around the estate.
The drive up to Swiss Cottage takes you through historic Stand Wood, with its magnificent trees, where you may encounter a 'ruined' aqueduct, and other waterfalls and stone steps, all designed by Paxton.
At the top of the hill, there are sensational views and a series of man-made lakes. The Emperor lake feeds the famous fountain of the same name in the Chatsworth garden, but the Swiss lake, to which the cottage gave its name was dug out to supply water to the 1st Duke's Cascade in the 1690s.
Built as a gamekeeper's cottage, the building has now been completely restored by the Duchess of Devonshire, right down to the shelves of books on Swiss themes.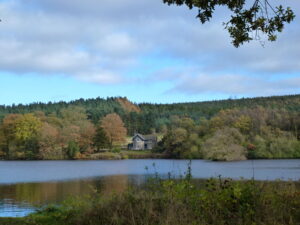 Grade II Listed by Historic England