Limekilns were used for the calcination of limestone (calcium carbonate) to produce the form of lime called quicklime (calcium oxide).
Limestone has been of great economic importance for Derbyshire and the Peak District.
Valued as a building material but also calcining of limestone which involves the reduction of calcium carbonate to calcium oxide has a variety of uses. Egyptians used it for plasterwork in the pyramids, the Greeks and Romans in the making of cement.
There is evidence that lime-burning was carried out in the Buxton locality in very early times was found during excavations for foundations of the Buxton Crescent with the discovery of a Roman bath made from limestone and cemented with lime mortar.
Alport at SK222646 – former limestone workings behind Alport Mill with two limekilns used until World War I.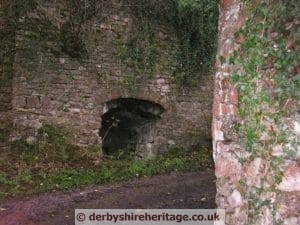 Alstonfield SK113573
Ambergate SK353519 – Until mid-1966, Clay Cross lime works had an impressive curved bank of twenty limekilns built by George Stephenson 1837-41, to burn limestone from Crich Quarries, using slack coal from Clay Cross Colliery. Started as eight kilns, increased to twenty in October 1841. Stephenson also bought a narrow strip of land for access to the main railway line by a spur line and turntable, still visible. A 12 hp horizontal steam engine installed by him in 1841 for hoisting, in use until 1946, is preserved at Sheffield University.
Bakewell SK212685
Ballidon SK211544 – There were various disused limestone quarries including Royston Grange Quarry (SK 204570), and also a limekiln beside the A524 road.
Bullbridge SK359524 – five limekilns erected about 1780, probably by Ed Banks and Co. Taken over by Butterley Co and operated until about 1930, burning lime from Hilts Quarry, Crich.
Buxton Lime Firms – BLF 
SK077725 – In 1891 thirteen quarry owners amalgamated their seventeen quarries into Buxton Lime Firms. BLF owned 1522 acres of land, 89 lime kilns (including 2 Hoffmans), 21 large stone crushers and 3 collieries. They produced 360,000 tons limestone and 280,000 tons lime per year and dominated the industry in Derbyshire. Brunner and Mond owned a controlling share in BLF and in 1926 four major chemical companies in Great Britain (Nobel Industries Ltd.; Brunner, Mond and Company Ltd.; United Alkali Company; and British Dyestuffs Corporation) merged to become Imperial Chemical Industries (ICI). See 
BLF page
 for more information and photographs.
Crowdecote SK106650 – a once familiar roadside limekiln beside a disused quarry on the hill east of Crowdecote, collapsed during the winter of 1969-70.
Dove Holes SK091768
Earl Sterndale SK089674
Flagg SK127696 – was a small double limekiln.
Froggatt SK248769 – It was said that in the nineteenth century men used to bring coal here from Holmesfield before proceeding to the limestone quarry at Calver and that for carting two loads of limestone from the quarry up to the kiln they were allowed a load of burnt lime for the price of 6d (2½p).
Goyt Lane field kiln – Lime from the Buxton area brought down Goyt Lane and coal may have been from the Wildmoorstone Clough workings.
Loaded from above, heated initially heated gently to dry off and then heated fiercely to calcine the limestone the draught being controlled by partially blocking the stoke hole.
Calcining usually took 36 to 48 hours and then a further 48 hours cooling down.
After cooling the quick lime (CaO) was raked out. These field kilns have no waste heaps because normal agricultural practice was to spread both the lime and ashes onto the fields. It was only commercial kilns that separated out a purer product.
The quick lime was dispersed in the fields in small heaps, often covered with earth and left to slake, producing a powder and ploughed in.
The slaked lime was also mixed with riddled ashes and limestone dust to make a mortar.
Grin Hill SK053718
Hartington SK143607
Ilam SK126495 – a large pudding-pie kiln, with bricked arch and stone-lined basin, were at SK 126495
Millers Dale
 SK143732 – Only two of the original 
Buxton Lime Firms
' quarries lie actually within the boundary of the national park and both are now disused. One is that of the East Buxton Lime Works (SK 133732) in Wormhill parish, north of the railway line near the former Miller's Dale station, which closed down finally in 1944. The other, the former Miller's Dale Limeworks, south of the railway at Oldham sidings, Taddington parish (SK 143732), was opened in 1878 and closed in 1930; there are considerable remains, including buildings and the chute system, as well as kilns.
The information board says – "You are in front of East Buxton Limekilns. The massive concrete buttresses were added in the 1920's but the original rock-cut kilns were opened in 1880 and worked until 1944.
During the 19th century there was an increased demand for quicklime for the chemical and steel industries and for agriculture. To meet this demand many limestone quarries and kilns opened next to railways where coal could be easily brought in and the processed quicklime taken away.
Go inside and, when you are used to the gloom, see the gritstone lined drawing tunnels, two from each kiln. A man and boy would work in here to draw out the quicklime from each ',eye' — an unpleasant job as the lime was caustic. It was the riddled to grade it into lumplime and small lime. Each was then taken by barrow to railway trucks. About 50 tons came out each day.
The smaller 'toot' holes above the 'eyes' were used to gauge the temperature and to clear away any slag or 'crozel that might block the kiln. Firebricks lining the kilns had to be replaced every 2 or 3 years.
You can reach the top of the kilns by going up a slope starting 130 yards to the right."
Minninglow SK205573 – a 19th century kiln standing by the CHPR Cromford and High Peak Railway embankment.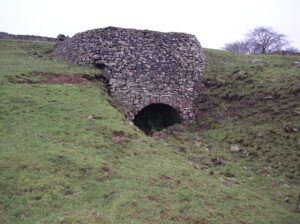 Monyash SK155675 – probably in operation until 1800.
Stanton in the Peak SK231639 – was on the east side of the A524.
Tissington SK156525 – A large lime kiln, by the footpath to Bostern Grange, the draw hole is 9 ft wide, and the kiln about 11 ft high 15 ft deep.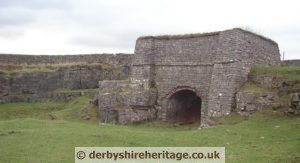 Winkhill SK086503
Wormhill SK133732