DERBYSHIRE PREHISTORIC ROCK ART
With patience and a keen eye Prehistoric Rock Art can be found in various Derbyshire Peak District locations. Rock Art is not restricted to any particular elevation or specific type of site and each location will show different mixed patterns of rock art.
These strange and mysterious symbols carved into rock surfaces can be in the form of simple, circular hollows known as 'cups' to more complex patterns including rings, spirals, arcs, zigzags and intertwining grooves. Rock art is very difficult to date but as some appears in association with prehistoric monuments, it is generally considered to have been common for over 1000 years in the Late Neolithic and Early Bronze Age.
Prehistoric art is common throughout the world however Britain's best-known examples of prehistoric rock art are not painted in caves but carved on outcrops and crags, stone circles and cairns and to be found across the north of the country with the most Southerly concentration being located in Derbyshire. Occasionally rock art is also found on Iron Age sites such as the hill forts of Ball Cross in the Peak District.
Original meaning of the symbols is now lost in the mists of time but they provide a unique link with our prehistoric ancestors. Many suggestions as to the meaning of the symbols have been made including fertility symbols, hieroglyphic messages, maps, boundary or route markers. There is also the belief that since most of the art is found on horizontal surfaces facing the sky the simple shapes such as cupmarks may have had astronomical significance and represented the moon, sun and stars.
Many examples of rock art have eroded and are badly weathered to the point where they can be barely deciphered and others have been lost forever to human activities such as quarrying. Considering the length of time they have been exposed to the elements and the gritstone base they are carved on then we are lucky that so many remain.
ASHOVER CUP and RING NEOLITHIC ROCK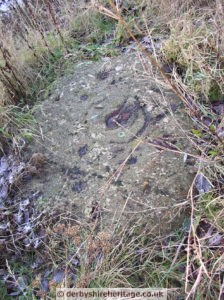 Two large gritstone boulders were found by school children at Ashover Primary School whilst carrying out an environmental project.
The boulders were identified by archaeologists to be from the neolithic period and prove their was a settlement in Ashover from between 3,000 and 6,000 years ago.
One rock is inscribed with cup and ring markings and the other has unidentified writing.
ECCLESALL WOODS CUP and RING STONE
Although just over the Derbyshire border this cup and ring stone is definitely worth a mention.
It is difficult to find but well worth the effort.
The carving is cut very deeply in places and is so well defined that some have questioned its age.
However in an issue of "The Derbyshire Archaeological Journal" in 1983 a brief article appeared written by John Barnatt and Peter Frith titled: "A Newly Discovered 'Cup and Ring' Carving in Ecclesall Wood".
To quote from this article –
– The stone was first noticed in 1981 by Peter Frith;
– It is the first prehistoric carving to be discovered in the eastern foothills of the southern Pennines;
– The carving is unusual in several respects: three sub-ovals, deeply cut rings, each surrounding 1-4 shallower cups connected by grooves; the central ring with its internal cups has been emphasised by cutting away the sandstone on three sides to form a raised oval boss (possibly unique); gutters near the edge of the slab which surround much of the carving; the internal grooves subdividing the slab into several irregular, enclosure-like, zones and the various elements are not cut to a consistent depth.
GARDOM'S EDGE ROCK ART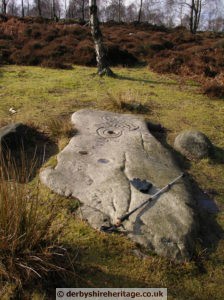 Several examples of "rock art" are known from Gardom's Edge. A stone bearing cup and ring marks was discovered during an early excavation of a large cairn. This can now be seen in Sheffield City Museum in Weston Park. A second stone with cup and ring marks remains on the moor. The most remarkable example was identified by a team led by Leslie Butcher in the early 1960's. The design consists of a series of cup and ring marks together with a small "spiral" and two circles that enclose multiple cup marks. These were carved on a large earthfast boulder situated on a natural lynchet that follows the line of a periglacial feature.
In 1996, a trench was excavated to investigate whether prehistoric activity around the rock art boulder involved the deposition of material or the cutting of features in close proximity. The trench was virtually devoid of any archaeological features or artefacts, apart from the rock art itself. Two stakeholes were the only features. Apart from part of a polished shale ring with an unfinished perforation created after breakage, the only other finds were a small number of chert and flint flakes.
| | |
| --- | --- |
| | |
nearby the rock art is a standing stone and a broken mill stone
HOLYMOORSIDE CUP AND RING STONE
The stone is on the edge of piles of stones from a large medieval field clearance. It has about 46 cup marks and a worn ring carving.
It's not known where the stone originally lay but as it must be fairly heavy then presumably it was not moved far.
Follow the path that starts from SK320691 and at the second field along head diagonally left to a stile. The stone is in the first pile of clearance stones over the stile at SK321686