Nelson's Monument erected in 1810 meant that Derbyshire had its Nelson's Column only five years after Trafalgar, while Londoners had to wait a further thirty for theirs.
This 3-metre high gritstone column with a 30 cm ball stands on top of rocky Birchen Edge overlooking Baslow in the Derwent Valley, 1,000ft above sea level. A simple gritstone obelisk, Nelson's Monument was erected in 1810 by John Brightman, a Baslow man in honour of Lord Nelson following his victory and his death at the Battle of Trafalgar in 1805 it was restored in 1992 by the 1805 Club.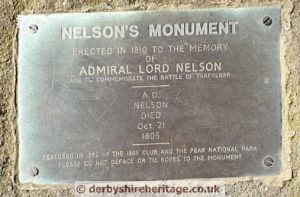 Close by Nelson's Monument, three large rocky outcrops are called the "Ship Rocks" have been carved with the names of three of Nelson's ships: Victory (the ship Nelson died on) on the Northern rock, Defiance on the Centre rock and Royal Soverin (sic) on the Southern rock. It has a mention on the War Memorials website.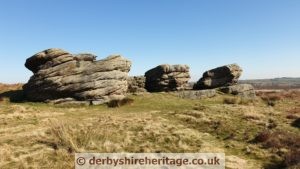 There are inscriptions on two of the faces –
SL
OCT 21
1805
and
HF on a second face
The rock surface near the base of the obelisk has GH inscribed.
SL, HF and GH may be graffiti.
HMS Victory is the Royal Navy's most famous warship. Best known for her role in the Battle of Trafalgar.
There is a visitor experience onboard HMS Victory at Portsmouth Historic Dockyard.
HMS Royal Sovereign was a 100-gun first-rate ship of the line of the Royal Navy, which served as the flagship of Admiral Collingwood at the Battle of Trafalgar.
HMS Defiance was a 74-gun ship of the Royal Navy launched on 10 December 1783.