THOMAS BATEMAN
Thomas Bateman was born in Rowsley, the son of the amateur archaeologist William Bateman. William was a considerable collector himself, particularly of books, manuscripts, genealogies and antiquarian objects. After the death of his father in 1835, Bateman, who was only 13 at the time, was raised by his grandfather (also named Thomas) at Middleton Hall. From the age of 16 he helped run the family estate, during this time he became interested in archaeology.
In 1845 he excavated 38 barrows, from 1848 to 1849 – 50 and from 1851 to 1861 – 22. Some say he worked too quickly but others disagree as he kept records of his digs and maybe even saved some sites from being robbed when no records would have been made.
Thomas Bateman built Lomberdale Hall, just outside Middleton, to his own design in 1844 and housed his significant collection there.
However, on his death in 1861, aged only 39, the estate passed to his son, who quickly squandered his inheritance.
When the collection was inspected in 1876 it was found to spread over five rooms and this didn't include the library he had also assembled. The terms of Bateman's will preserved it in perpetuity, but Sheffield Museum borrowed the archaeological collection with permission from Thomas Bateman's son.
Having accrued serious debts his son then sold off the contents of the hall to pay his creditors but this did not raise enough and so an application was made to the Court of Chancery for permission to sell off part of his father's museum. Finally, two years later the remaining artefacts were also sold off to cover even more debt. Shortly after this final sale his son died.
Sheffield Museum purchased the archaeological collection it had borrowed in 1876 after Derby Museum refused to buy and this still remains intact – the rest has been dispersed.
Thomas Bateman was not buried in a churchyard but in a field at Middleton, as he had wished. Thomas Bateman's tomb is surmounted by a replica of a Bronze Age collared urn, similar to those unearthed during his excavations.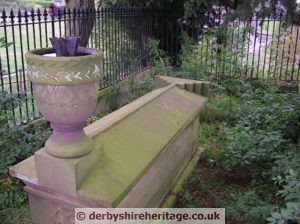 His wife, Sarah, was laid to rest beside him five years later. Their tree-shaded grave is reached from a sign-posted path next to a former chapel on the Youlgrave road out of Middleton.