A LIST OF OTHER DERBYSHIRE CURIOSITIES
Chatsworth – The Duke's Red Marble
Dove Holes – Ash House
Earl Sterndale – The Quiet Woman
Ible – Twelve Apostles
Milltown – unusual mounting block
Newhaven to Friden road Farm Gateposts
Snitterton Bull Ring.
Spital – Hays tomb
Tansley – Bakewell Union sign
Winster – Brittlebank/Cuddie duel
---
Chatsworth – The Duke's Red Marble
Chatsworth produced The Dukes Red Marble – a unique blood red, iron-rich limestone. Its source and whether it was quarried or mined is disputed. Some have suggested it being quarried near Ashford in the Water but there is documentary evidence that puts its source at Newhaven in the 1830s.
The Corsi Collection of Decorative Stones says –
"a very fine example of 'Duke's red marble, given to Corsi by William Cavendish, 6th Duke of Devonshire. The Chatsworth account books show that the Duke had shafts sunk at Newhaven for the newly discovered red marble in 1823, making Corsi's specimen one of the earliest examples of this marble still extant. Only small pieces were available, but it was a vibrant addition to the range of stones used by local  craftsmen for decorative inlays. A red stone from Alport in Derbyshire used for inlays, and called Duke's red by Tomlinson and others, was according to Thomas (2008), solidified iron-rich sediments obtained from mine drainage channels."
From The East Midlands Geological Society –
"The Duke's Red Marble is an almost blood-red, heavily hematised, Carboniferous limestone, capable of taking a high polish. Its precise source has been enigmatic, with Alport, Youlgreave and Newhaven all being cited. According to records in the Chatsworth archive, it was produced as a decorative material from small mines around Newhaven, near Hartington, mainly in the 1820s. Various accounts that suggest it came from Alport-by-Youlgreave appear to be based on the use of solidified iron-rich sediments derived from mine drainage channels in that area, which were used for inlay in decorative table tops."
The entire deposit was worked out and all stocks were held at Chatsworth. In 2007 there was a small dusty heap of The Duke's Red Marble in the cellars.
At St Peter's Church in Edensor the columns of the pulpit are constructed from crinoidal limestone and 'Duke's red' marble.
A column in Holy Trinity Church at Ashford in the Water is also fashioned from The Duke's Red Marble.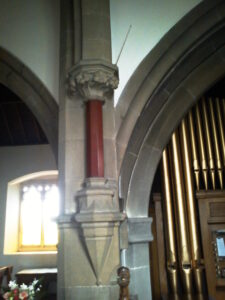 ---
Workers hacked simple dwellings out of heaps of waste from limekilns. This one at Dove Holes SK078778 was in reasonable condition at the time. Many were also made at Grin Low.
---
Earl Sterndale
The Quiet Woman pub is reputed to be over 400 years old and was in the occupation of the the Heathcote family for over 300 years. The pub name is unusual with only two others in the country. It is said to refer to a too talkative woman who was decapitated as a consequence.
"Soft Words Turneth Away Wrath" is written above the picture of a headless woman. The story goes that a former pub landlord's wife, known as "Chattering Charteris" nagged so much that she even started ranting in her sleep. At last her husband could stand it no more and cut off her head. The approving villagers even had a "whip round" to pay for the headstone.
---
Hardwick Hardwick Hall – Rowthorne gate latches
why have a plain gate latch handle when you could have one shaped like a serpent?
This pair can be found on the Rowthorne gate entrance to Hardwick estate.
---
Ible – Twelve Apostles
This row of troughs known locally as the Twelve Apostles stand in the little hamlet of Ible above the Via Gellia. The cottage nearby was once a Methodist Chapel so perhaps that is where the troughs have a connection. Ible only consists of a few farms and cottages.
There does not seem to be a record of a packhorse route here but it seems like a lot of troughs just for local use.
---
Milltown – unusual mounting block
Standing ouside the Miners Arms Inn at Milltown near Ashover is this mounting block.
It is probably unique too as it incorporates a trough.
Across the road is a pinfold.
---
Snitterton Bull Ring.
For centuries bull baiting was common throughout England, not only as entertainment but because it was thought to tenderise the animal's meat. For this reason the bye-laws of some towns, including Chesterfield, instructed local butchers to bait bulls before they were slaughtered. Chained by the leg or neck, the bull was tormented by dogs specially trained to pin it by the nose – the one area which really was tender. Every market town and many villages had a bull ring but very few survive in and around the Peak District.
Bull baiting was often a highlight of market days, annual wakes and fairs, and special occasions such as a wedding. At a Darley Wedding in 1798 about 370 guests were entertained at the end of the day by a ball and two bull-baitings.
A chain and swivel secured in an iron ring tethered the bull which was frequently already enraged by having had pepper blown into his nostrils before the dogs were set on to him. The rope was about 15 feet long, so that the bull was confined to a space of 30 feet diameter.
The dogs were trained to pin the bull by its sensitive nose, an agony often prolonged by allowing the beast to hide its snout from time to time in a purpose-made hole in the ground. The Old English Bulldog was bred especially for this sport. Dogs were at little risk as the bull's horns were tipped with rounded knobs.
The bull ring at Snitterton is at road level near Yew Tree Cottage at the junction to Snitterton Hall. It was preserved by Derbyshire Archaeological Society in 1906. An old villager recalled being told by his father how in the evenings men from Winster, Wensley and other villages would often bring their bulldogs to be tried against the bull at Snitterton. The Snitterton bull ring was so worn that a new one was laid, its staple set into a stone 2′ wide and 7′ deep – which it took four horses to pull – which was sunk 2′ into the ground.
A Bill for the suppression of the practise was introduced into the House of Commons in 1802, but was defeated by 13 votes, and it was not until 1835 that it was finally put down by Act of Parliament, called the Cruelty to Animals Act 1835, which forbade the keeping of any house, pit, or other place for baiting or fighting any bull, bear, dog, or other animal.
---
The Hays tomb has one of the finest angel carvings.
The inscription says –
BIRTHDAY PROMISE
In ever sweet and cherished memory of
SARAH HAYS
(Butcher of this town)
Born July 16th. 1858,
whom God called home
July 20th. 1928.
Meet me there
in that bright home beyond.
ALSO
SILENCE MARY HAYS
sister of the above
CALLED TO REST
OCTOBER 12th. 1943,
AGED 72 YEARS.
Two legends appear to have grown up around the Hays tomb.
The first is connected to when she was being christened in the Crooked Spire. As she was being christened there was an interruption or noise from the congregation which distracted the vicar just as he was about to pronounce her name and he called for silence. So it is presumed that he said, 'I name this child…."Silence"….Mary Hays.'
The second legend relates to the carved angel and child – one of the sisters is rumoured to have had an illegitimate child, hence the child sheltered by the angel. The profile of the father is said to be carved on the base where the angel is standing.
Neither can be verified.
Perhaps she was a very quiet child which led to her unusual name.
---
The Union was a grouping of adjacent parishes jointly administering poor law affairs. The "union" was one of the slang names for the workhouse. Tansley became part of the Union in 1839.
Bakewell Union was formed July 21st 1838, the Board of Guardians (50) met every alternate Monday at 11.30am at the Workhouse.
Bakewell Union comprised the following places:
Abney & Abney Grange, Aldwark, Ashford, Bakewell, Baslow with Bubnell, Beeley, Birchover, Blackwell, Bradwell, Brushfield, Calver, Chatsworth, Chelmorton, Cromford, Curbar, Darley, Edensor, Elton, Eyam, Eyam Woodlands, Flagg, Foolow, Froggatt, Grange Mill, Gratton, Great Hucklow, Great Longstone with Holme, Great Rowsley, Grindlow, Hartington Middle Quarter, Harthill, Hassop, Hathersage, Hazelbadge, Highlow, Little Hucklow, Little Longstone, Litton, Matlock, Matlock Bath, Monyash, Middleton & Smerril, Nether Haddon, Nether Padley, Offerton Outseats, Over Haddon, Pilsey, Rowland, Sheldon, Stanton Stoke, Stony Middleton, Taddington & Priestcliff, Tansley, Tideswell, Wardlow, Wensley & Snitterton, Wetstone, Winster and Youlgreave.
The area of the whole Union was 104,617 acres, rateable value in 1895 £206,453 and population in 1891 was 32,153.
---
Winster – Brittlebank/Cuddie duel
In May 1821 a young surgeon was killed in a duel at Winster.
He was William Cuddie, aged 31. William had fallen in love with Mary, the daughter of the wealthy Brittlebank family of Oddo house. For some reason one of her brothers, William Brittlebank, tried to keep them apart.
One evening the two men quarrelled. The doctor later received this note:
"Sir, I expect satisfaction for the insult you dared to offer me at a time when you knew that my situation with a helpless Woman prevented my chastising you.
Name your time and place, the bearer will wait for an answer.
Sir, Yours, &c. William Brittlebank, Jun.
I shall be attended by a friend and prepared with pistols, and if you don't meet I shall post you as a coward."
In other words this was a challenge to a duel, but Cuddie refused to reply. The next afternoon the three Brittlebank brothers turned up in his garden with two loaded pistols.
Cuddie reluctantly accepted one of the weapons. William Brittlebank walked 15 yards away, turned and fired. Two shots were heard but only Cuddie was hit. He died a few hours later.
Dr Cuddie had been very popular in Winster. He used to give free medical advice and treatment, sometimes even sums of money. Many people wondered whether his pistol had actually been loaded.
Two of the Brittlebanks were tried at Derby and found not guilty of murder. Their brother William however had fled to Australia with £100 reward on his head.
William Brittlebank never returned to England. He still has descendants living in Australia.
Mary is thought to have married and moved away but returned to Winster in her later years.
Oddo House stands at the end of it's curving tree-lined drive amidst landscaped parkland to the west of the church. It was first occupied by Hugh Brittlebank, a solicitor in 1700 and remained in that family for 200 years. The Brittlebank's also owned most of the village, for when they left in 1891 they sold not only Oddo House but `3 farms, 68 lots of choice accommodation', and `meadow and pasture land' – a total of over 273 acres! A parcel of this land is now occupied by the new cemetery to the north of Oddo House, and the large Victorian Vicarage standing opposite.
---
Farm Gateposts – Newhaven to Friden road
On the Newhaven to Youlgrave road these farm gateposts can be found and they must be unique in the message that they give – make every day count but don't spoil the countryside.
The two posts replaced some old concrete pillars. Paid by Wren Re-cycling, this project involved environmental improvements including a new traditonal oak gate and the rebuilding some of neighbouring walls.
The mason was Michael Steel.
---