BARBROOK II stone circle – SK278758
Barbrook II stone circle is a ringcairn, as opposed to a stone circle, although the differences seem to be only a variation on a theme. It has a central open space, roughly sixteen paces across just like Barbrook I. It is surrounded by a revetted (= a wall or embankment faced with stones) stone bank, on the inside rim of which are a number of upright stones. What is different is that the uprights are within, and mostly lower than a dry stonewall which holds back the stone bank. It also has a marked entrance facing northeast, and the remains of a central cairn. Barbrook II has been restored.
A small cairn is located in the interior. Only one of the standing stones, to the west-south-west, is taller than the surrounding wall, but there does not appear to be any special reason why this should be so.
Barbrook II was first documented in 1850, in an unpublished letter to Thomas Bateman from Samuel Mitchell. The latter had excavated the site but revealed nothing of significance.
G.D. Lewis carried out further excavations between 1962 and 1970, when the whole of the interior, a cairn located in the entrance and the main bank were investigated. A number of cupmarked stones were discovered both in the bank and elsewhere on site. During the 1969 season, four human cremations were also discov­ered within the enclosure, two in simple pits, one below the cairn and another in a small stone cist. Radiocarbon analysis from the cremation under the central cairn gave a date of circa 2192BC to 1430BC, placing it firmly in the Bronze Age.
Around the midsummer solstice in 1988 and 1989, the circle was criminally altered by 'persons unknown'. The stones were placed upright in completely the wrong positions, the wall was made higher with stones robbed from elsewhere and the cist was even turned into a fireplace! The monument has now been fully restored to look as it might have done circa 2000BC, following partial re-excavation in October and November 1989.
Following this restoration, eight of the ten stones were replaced in their original stone holes. The ninth could not be located but was substituted with a similar stone. The excavations also revealed that the four standing stones to the north and west were in deep holes, whereas those in the other half were shallower.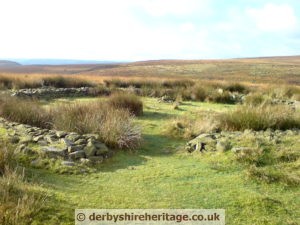 Another stone circle within the group is Barbrook III.